Dear First Love,
I hope you are still brimming with greenery, boasting to every newcomer about your benevolent climate, craft beers, quaint hideaways, and colonial heritage. Yesterday, here, the legendary April storm, roaring in a heavy tone once again mercilessly rattled the windows as I scurried my way to close them. Within a couple of minutes, I could hear the pitter patter outside my house along with the incessant thunders bombarding the parched city.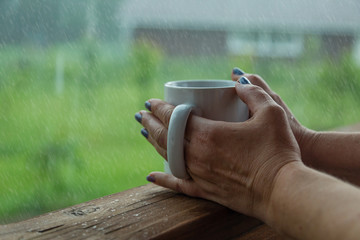 Unlike most praying for the abatement of the furor, the heavy downpour didn't fail to stir up the child in me. With a steaming mug of coffee in hand, I watched the rains flooding the streets, crippling the maddening traffic for a while.
All of a sudden, the feral weather became a metaphor of nostalgia to me. It invoked memories that you created in my heydays.  Just like your verdant beauty, the whimsy drizzles had a subtle impact on me. The sight of cumulus clouds drifting away was always a distraction from the long hours of studies as the charm of your sombre weather was difficult for my eyes to behold.
My mind took several leaps back flashing vivid images of the past making me wiggle on my couch with excitement. The day I visited you for the first time is etched deep in my mind when my little feet clambered down the stairs of the plane only to be greeted with lush greenery and a balmy weather. Holding my father's hand, I got into a big car waiting outside the airport that within a minute whizzed past the outlandish autos, bikes, and mammoth buses.
While gallivanting around you, I was in awe of the new culture personified by underground shops with signboards written in a different script, homely crowd drenched in simplicity, and mouth-watering authentic cuisines dished out at dainty eateries. An enduring relationship was formed then and there with you.
Hailing from a city with a perturbing political atmosphere, I found you as a refreshing escapade from the burgeoning urban rush. My unforgettable journey began with a hassle-free admission in a top-notch school followed by winning academic accolades, fostering new friendships, and imbibing a whole new culture.
The pleasant strolls on the historic shopping streets with pals, sneaking into offbeat cafeterias to taste the fresh-brewed filter coffee, satiating my hunger pangs after a yawn-inducing class with crunchy masala dosas at the college canteen, and the summer afternoon reading spree when the rains would unexpectedly come pouring down, sum up into an ecstatic, care-free life that I once led.
Your cosmopolitan tapestry lured every visitor, contradicting the belief that cities are not meant for soaking in nature. With a plethora of opportunities for youngsters, you began to proliferate into a worldly-wise urban sprawl, bristling with possibilities of a better future. You became the one-stop hub for international retail brands, global concerts, tourism, and vivid cultural activities.
Like a coin has two sides, you too devised challenges for me only to show that no road is devoid of curves. Every year when the crisp autumn arrived, the absence of the galore of festivities celebrated in my hometown always left a deep void inside me. In return of a high standard of living, many like me coming from all over the nation had to make petty sacrifices. Howbeit, when I see the bigger picture, you overloaded my life with unconditional love shaping me into a suave personality with layers of emotion, strength, empathy, and vivacity.
Green city, retirement paradise, pub capital of India, student town, and Silicon Valley of India were your ruling synonyms that always made any Bangalore-bred youth like me swell with pride.
The day I left you, even the sky cried pouring the raindrops on my face, beseeching me to stay back forever as I boarded the flight. The reality was bitter to gulp down as none could contemplate me breaking the decade-old relationship without a concrete explanation.
You might be awestruck thinking how the bits and pieces of memories are still fresh even to this day. The coy and naive 9-year old whom you met two decades back has flown the nest and now put down roots in the same place that is believed to be her origin.
It's been 7 years since we parted, still you keep coming back to my mind, not failing to fill my eyes with tears. Although you might not believe, every phone conversation with friends commences with asking about your well-being, and then the usual gossips. Some even whine about the changing patterns of your weather, indefinite hours of standstill traffic, and the growing pollution. But in my heart, you would always be holding a special place as home is where the soul is even when it's miles apart.
With lots of love, hugs, and tears,
Your Admirer/Friend